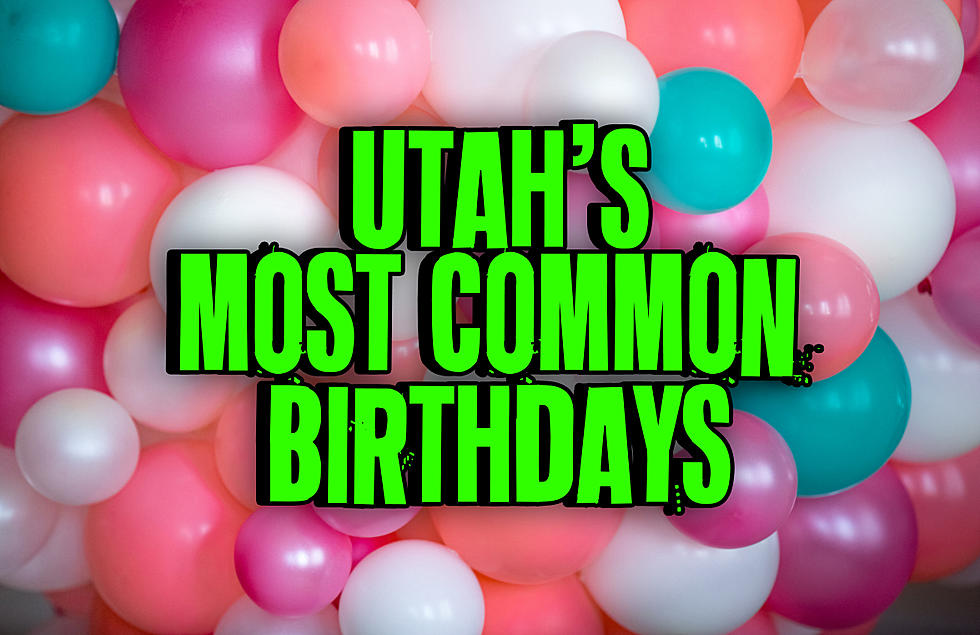 Utah's MOST (and least) COMMON Birthdays! Does Yours Make The List?
Canva
Do you have one of those birthdays that EVERYBODY ELSE seems to have? Or one of those birthdays, that NOBODY ELSE seems to have? Well here is the list of Utah's MOST COMMON Birth dates!
Shockingly, SEPTEMBER, makes up 9 of the top 10 most common birthdays:
September 9
September 19
September 12
September 17
September 10
July 7
September 20
September 15
September 16
September 18
Why is that? Why is September SO COMMON for birthdays? Are people... "in the mood" the most in December? Is it the Christmas Spirit that turns everyone on? Is it the cold temperatures keeping people in doors? Are people READY TO RUN on Christmas morning? I'm not sure I like that very much!
Here are the LEAST COMMON BIRTHDAYS:
356. Oct. 31
357. Nov. 25
358. Nov. 23
359. Nov. 27
360. Dec. 26
361. Jan. 2
362. July 4
363. Dec. 24
364. Jan. 1
365.Dec. 25
366. Feb. 29
Now, here's the ENTIRE LIST of Birthdays from MOST COMMON to LEAST COMMON. Where do you rank?
Sept. 9
Sept. 19
Sept. 12
Sept. 17
Sept. 10
July 7
Sept. 20
Sept. 15
Sept. 16
Sept. 18
Dec. 20
Sept. 26
Sept. 8
Sept. 23
Dec. 29
Aug. 8
Sept. 24
July 8
Dec. 19
Aug. 29
Aug. 15
Sept. 22
Dec. 30
Sept. 14
Sept. 25
Sept. 27
July 1
Dec. 28
Aug. 28
July 2
Aug. 22
Sept. 21
Sept. 13
Aug. 30
July 11
Aug. 16
Aug. 1
July 18
Aug. 20
July 9
July 16
July 25
July 15
Aug. 12
July 10
Aug. 27
Aug. 9
Oct. 1
July 17
July 23
Aug. 14
July 22
Aug. 18
July 14
Dec. 21
Dec. 18
Oct. 3
Dec. 27
July 21
Aug. 23
Aug. 21
Aug. 19
Feb. 14
Aug. 26
July 28
Aug. 5
Aug. 11
July 24
July 30
July 29
June 27
Aug. 7
Aug. 6
July 26
Aug. 2
Aug. 25
Oct. 2
Sept. 29
Aug. 4
Nov. 21
July 12
June 28
Oct. 10
Aug. 31
Sept. 28
Aug. 17
June 30
July 19
May 23
July 31
Sept. 11
June 20
Aug. 10
Oct. 4
Sept. 30
July 6
Dec. 17
Aug. 13
Aug. 24
Nov. 20
Dec. 12
Sept. 5
July 20
July 27
June 25
Sept. 7
Dec. 22
June 26
May 24
Dec. 16
June 29
Nov. 1
June 2
June 18
Oct. 6
Aug. 3
June 24
Oct. 7
Oct. 8
Nov. 7
July 3
June 21
Oct. 17
Sept. 6
June 14
May 22
May 16
Oct. 24
Oct. 5
Oct. 11
June 16
Oct. 15
June 3
Nov. 19
May 21
June 17
Dec. 1
June 23
June 6
Nov. 14
Nov. 15
June 10
June 4
April 4
Sept. 4
June 12
May 20
Nov. 5
Dec. 15
Feb. 15
Oct. 25
Dec. 2
March 21
July 13
Nov. 8
June 19
Nov. 18
June 5
June 1
June 7
June 11
May 15
Oct. 22
Oct. 18
Oct. 14
Feb. 7
Dec. 3
Nov. 11
March 17
Oct. 9
Dec. 5
Nov. 3
June 22
March 1
Nov. 4
Nov. 17
May 17
Sept. 3
March 14
Oct. 16
May 2
Feb. 22
Oct. 28
March 7
June 9
Nov. 6
Nov. 2
June 15
Nov. 12
March 3
May 5
May 10
May 14
Oct. 20
Feb. 8
April 11
Oct. 21
Feb. 28
Jan. 24
Oct. 23
March 28
June 13
May 9
Nov. 10
Oct. 27
June 8
Jan. 10
Nov. 16
Jan. 4
May 12
Feb. 10
Feb. 11
Oct. 12
Oct. 29
March 15
Feb. 21
April 2
April 18
March 12
March 20
May 1
Sept. 2
May 19
April 25
March 4
Dec. 4
March 5
March 8
Jan. 14
Jan. 11
March 25
Feb. 25
March 22
Dec. 6
May 8
March 18
Jan. 5
April 12
Dec. 14
Dec. 10
Jan. 25
May 6
Feb. 2
Feb. 16
May 7
Feb. 18
March 10
Jan. 12
March 11
Sept. 1
Feb. 1
Oct. 26
Feb. 23
Nov. 9
Jan. 7
March 24
March 6
March 19
Jan. 6
April 16
Feb. 4
Feb. 24
May 3
Jan. 17
May 30
April 5
May 18
April 3
Feb. 12
April 17
March 27
Feb. 9
Dec. 8
April 19
April 8
March 26
Feb. 20
Jan. 18
Jan. 31
Dec. 11
April 15
April 26
April 22
March 29
Jan. 23
April 23
April 7
Feb. 27
Nov. 30
Dec. 13
Feb. 17
Oct. 19
Dec. 9
April 24
Jan. 26
Feb. 3
Jan. 28
April 9
May 25
April 10
Jan. 20
Jan. 21
Jan. 27
April 21
Oct. 30
Jan. 3
April 14
April 28
March 2
May 28
Feb. 6
May 29
March 31
March 16
Oct. 13
March 9
Nov. 29
Jan. 30
May 11
Nov. 13
Dec. 7
March 23
April 29
April 30
Feb. 26
May 31
May 4
April 20
March 30
May 13
May 27
Jan. 19
Feb. 5
Jan. 22
Feb. 19
April 27
Nov. 22
March 13
April 6
Jan. 9
Jan.16
Jan. 13
Jan. 8
Feb. 13
Jan. 29
Jan. 15
July 5
May 26
Dec. 31
April 13
Dec. 23
April 1
Nov. 28
Nov. 26
Nov. 24
Oct. 31
Nov. 25
Nov. 23
Nov. 27
Dec. 26
Jan. 2
July 4
Dec. 24
Jan. 1
Dec. 25
Feb. 29

More From Cat Country 107.3 and 94.9