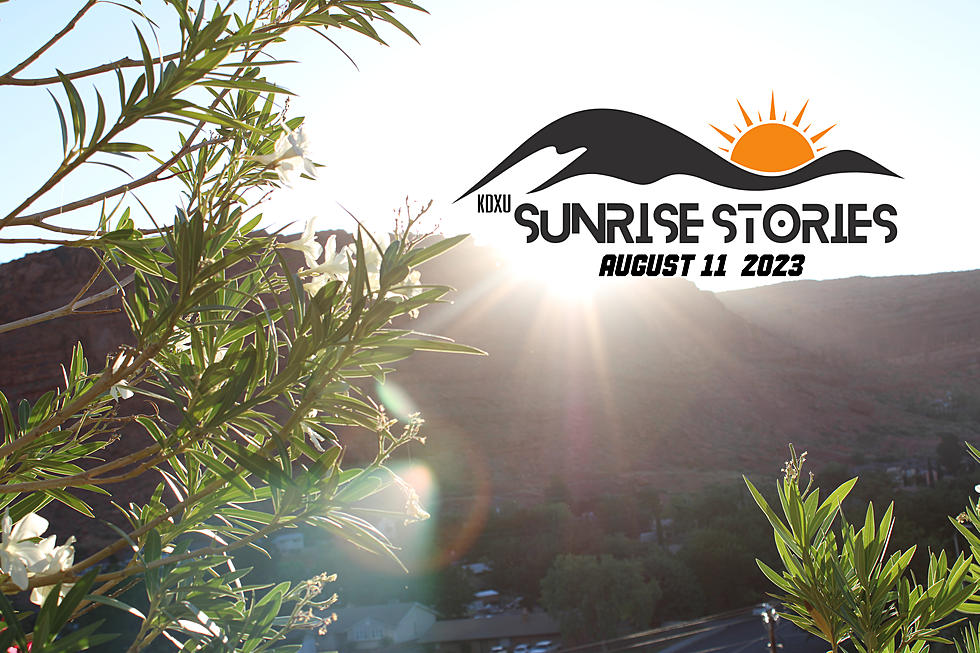 KDXU Sunrise Stories for August 11, 2023: 7,000 Acres Burned Near Beaver, Jason Deichmann, and a A New Washington Fields Medical Clinic
Photo Credit: Stockton Myers
KDXU Sunrise Stories: Volume 31
Statewide News – 08/11/23
President Biden Celebrates PACT Act in Utah
President Joe Biden spoke at the VA Medical Center in Salt Lake City on August 10 during the one-year anniversary of the PACT Act. 
The PACT Act give more benefits to veterans to who were affected by toxic chemical such as Agent Orange, which was an herbicide used during the Vietnam War. 
President Biden called the law the most significant expansion of benefits for veterans exposed to toxic chemicals in decades. 
The President also said his son, Beau Biden, passed due to cancer which was partly caused by toxic chemicals while fighting in Iraq. 
Reminder: Veterans Receive Benefits on Military Appreciation Day
Veterans both past and present will receive some benefits from Utah State Parks during Military Appreciation Day on August 12. 
Those who have served, or are currently serving, will be allowed to enter any of the many Utah state parks for free on August 12, and they can bring their families along as well. 
More info on the benefits can be found on the Utah State Parks website. 
Southern Utah/St. George News – 08/11/23
Thompson Ridge Fire Grows to Over 7,000 Acres
The Thompson Ridge fire has grown to over 7,000 acres burned as of the evening of August 10. The fire is located just 11 miles Southeast of Beaver. 
About 200 fire fighters are working to contain the blaze, but the fire is still at 0% containment. 
One of the main reasons the fire has been so difficult to extinguish is because of the steep rugged terrain where the fire is located. This creates issues for fire fighters because they can't get to where they need to be to best fight the fire. 
According to Kylee Stott, a PIO assigned to the coverage of the fire, even more emergency responders will be assigned to the fire as it continues to grow. 
The Thompson Ridge fire started one week ago on August 4 due to a lightning strike. 
True Crime Podcaster Assists with School Shooter Training
Phil Chalmers, a Florida podcaster who writes about true crime, interviews serial killers, and tours the U.S. giving training seminars, is assisting with a school training exercise in Cedar City today, August 11. 
Chalmers will be working in tandem with the Cedar City Police Department to host the training with two separate sections. 
The event will take place at Cedar City High School with "School Shooters and Warning Signs" taking place from 8 to 11 a.m., and "Profiling Dangerous People" will be taught from noon to 4 p.m. 
New Medical Clinic Breaks Ground in Washington Fields
A groundbreaking ceremony was held on the morning of August 10 for the Intermountain Health Washington Fields Clinic. 
The new clinic will be located on the Northwest corner of George Washington Boulevard and 3000 East and is expected to open its doors in the Summer of 2024. 
German Triathlon Athlete Runs Through Southern Utah
Jason Deichmann, a German triathlon athlete, is making his way through Southern Utah as of August 11.  
Deichmann is currently running from Los Angeles to New York City, and this after he already cycled from New York City to Los Angeles. 
You can see his current progress live on his website courteous of a live tracker he has on his person at all times during his trip. 
Deichmann is running for a charity called World Bicycle Relief, which has a goal of giving children in Africa a "perspective with bicycles." 
Other
Fun Fact about Stockton Myers, the writer of Sunrise Stories.  
Stockton loves to bite into his ice cream. When he told this to his sister, she visibly winced at the idea of it. Stockton is essentially a dentist's worst nightmare. 
Did we miss something? Connect with us on Facebook and tell us! We'd love to hear from you. 
Have a good weekend! 
More From Cat Country 107.3 and 94.9