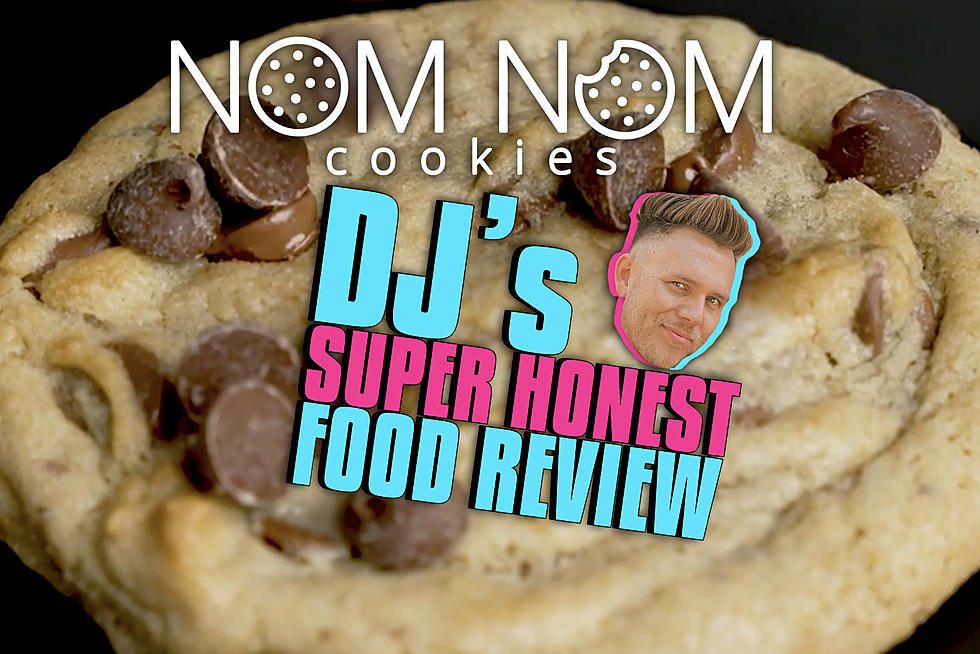 DJ's Super Honest Food Reviews: Nom Nom Cookies!
Nom Nom Cookies
Just the other day, someone dropped off cookies at our Cat County studio. It was a beautiful box of 4 cookies. This company is called... NOM NOM COOKIES. 
Nom Nom Cookies is located in the parking lot of Hurricane Walmart next to Mountain Mike's Pizza. These cookies are about the size of Crumbl Cookies, but not as thick and dense. The shape are practically the same size though.
Now, I'm a huge fan of Crumbl Cookies. I have the Crumbl App, I check it every week to find out their flavors, and I order pretty often! With that said... I thought there was NO WAY these cookies could compete with Crumbl. BOY, OH BOY, DID THEY COMPETE!
Unfortunately, I wasn't around when the cookies were dropped off, so I didn't get the actual flavors but GET READY! THEY BLEW MY MIND! The four cookie flavors were the following: Chocolate Chip. Sugar Cookie with Frosting, Chocolate Cookie with White Chocolate Chips, and some Cinnamon-Banana Bread tasting cookie. 
I started out with the Cinnamon-Banana Bread one (I don't know the official name of it). I almost melted into my chair when I first tasted it. I was having an experience eating this thing. I said things like "I want to commit crimes!" and "This is legal meth!" I don't know where my mind was going... The cookie was THAT GOOD! The two chocolate chip cookies were alright, but they didn't blow my mind.
The sugar cookie with frosting was next... That was AMAZING TOO! This is going to sound like a weird way to describe a cookie, but it tasted JUST LIKE cookie dough. I don't know how else to describe it. Just try the thing!
After having these experiences with the cookies I've come to the realization... These are Southern Utah's BEST COOKIES! MOVE OVER CRUMBL, THERE'S A NEW KING IN TOWN! That king is NOM NOM COOKIES! WOW!
Cookies: 10/10
Likelihood of going back: 10/10
PERFECT SCORE!

More From Cat Country 107.3 and 94.9