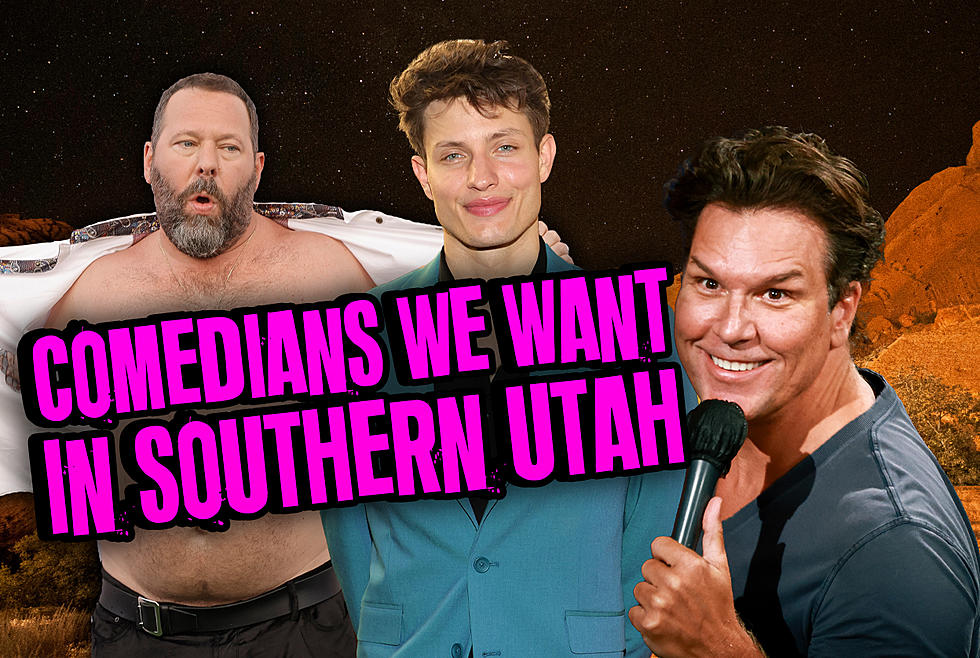 Comedians That Would SELL OUT If They Came To Southern Utah
Canva
Last week, Comedian and Podcaster, Theo Von, came to Southern Utah! Theo performed his set in Springdale, Utah at OC Tanner Amphitheater. Theo's tickets sold out QUICK, as his fans were thrilled to have him in Southern Utah. People traveled from Northern Utah, Nevada, California, Arizona, Colorado, Idaho and even Wyoming!
That, alone, should prove to local venues and investors that Southern Utah is willing to spend their money on Comedians coming to the area!
Here are a list of the TOP Comedians that should come to Southern Utah!
Bert Kreischer:
THE MACHINE! If you've never seen Bert before, you gotta check him out! He has a movie out about his crazy story in Russia with the Russian Mob. It's called "The Machine". He's also the man who inspired the movie "National Lampoons Van Wilder". Bert also has a huge podcast called "The Bertcast", another one called "2 Bears 1 Cave", and even has a Netflix show called "The Cabin."
Dane Cook:
My favorite comedian of ALL TIME! Dane Cook got BIG on Myspace, and became really the first celebrity to use social media to build his brand. You've probably seen a few of his movies like "Employee of the Month" or "Good Luck Chuck". I would go NUTS if Dane Cook came to town!
Nate Bargatze:
Nate is really pretty new to the scene. I've only heard of him the last year. But the guy is SO FUNNY and really relatable. He's on Netflix with his specials, and he seems fairly family-friendly.
John Mulaney:
John Mulaney was a big-time writer on Saturday Night Live. He just released his newest comedy special on Netflix which talks a lot about his last struggle with drugs and alcohol, but he's now been clean for a while! John Mulaney would be a home run to get booked in Southern Utah.
Andrew Santino:
Andrew Santino is someone who flies WAY under the radar, but he's SO FUNNY! He's got his podcast, "The Whiskey Ginger Podcast", and a second podcast with fellow comedian Bobby Lee, "Bad Friends".
Jim Gaffigan:
Jim Gaffigan may be WAY out of our league to ever book in Southern Utah, but I'd love it. He plays Vegas a lot, and Salt Lake City. Can't we get him at Tuacahn or Utah Tech? His comedy specials are on Netflix, and he also had a show on Comedy Central "The Jim Gaffigan Show."
Gabriel Iglesias:
FLUFFY! He's one of the biggest Mexican-American comedians out there, and I LOVE HIS STUFF! He's been in movies like "Magic Mike", "Space Jam: A New Legacy", "Coco", "Ferdinand" and many more.
Daniel Tosh:
You've probably seen his show TOSH.0 on Comedy Central, where it aired for 12 seasons. Daniel also has a huge following for his stand-up comedy. I've seen that he performs in Vegas a lot, and think MAYBE we can get him in St. George if we play our cards right!
Matt Rife:
Last, but DEFINITELY not least... Matt Rife. He's all over Facebook, Instagram, Tik Tok. GIRLS LOVE HIM! I've seen petitions all over social media of people wanting him in their city!

More From Cat Country 107.3 and 94.9