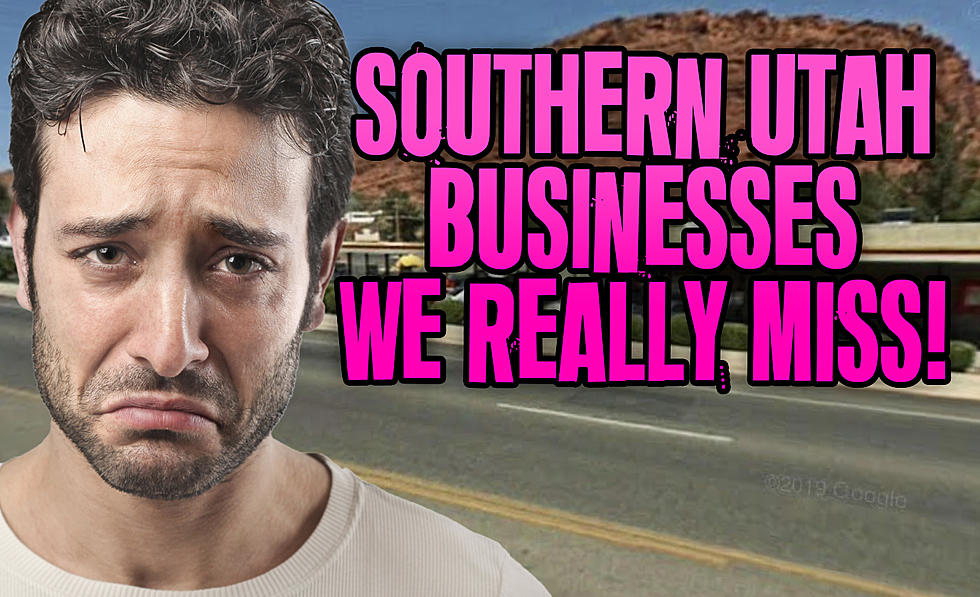 Southern Utah Businesses That WE REALLY MISS!
Google maps / canva
It's tough getting older, right? One thing that's really tough is losing a business that we all loved.
Here is our In Memoriam: Southern Utah businesses that are gone, but definitely not forgotten!
It's only fitting that we start here...
K-Mart:
K-Mart was a staple for anyone that grew up here! Every year it was defeating all odds and stayed open while nearly EVERY K-Mart in the country was closing down! If you ever went to K-Mart in the last days... It was like something out of an End-Of-Days Movie! It was like zero employees, nobody inside, stuff all over on the ground. It was sad!
St. George Car Wash:
St. George Car Wash was HANDS DOWN the best car wash in all of Southern Utah! It's now gone and turned into a Quick Quack Car Wash. I'll miss it forever. My car had never been cleaner than when I would pull away from St. George Car Wash.
Burger Place (Washington):
If you grew up in Washington, you FOR SURE spent many times at this place! This may actually be the MOST MISSED business in all of Southern Utah! The land is now... a car dealership.
Brick Oven Pizza:
Brick Oven Pizza was always some PRETTY SOLID pizza! I miss it. However, we made one of the best trades in the history of trades. Zupas is WAYYYY better than Brick Oven!
Village Inn:
This one still hurts me to my soul. Village Inn. My favorite breakfast place, and an awesome place to get some pie! It's now been torn down for... Quick Quack Car Wash. Quick Quack has hurt me twice on this list now!
Fazoli's:
3 words. Drive. Thru. Pasta! Need I say more? The Fazoli's building is now Five Guys Burgers, and they don't even use the drive-thru window, and it PISSES ME OFF!
Charlie's:
This one hurts. A LOT! I miss Charlie's SO MUCH. Best Ice Cream. Best Sandwiches. Best Chicken Noodle Soup. This is now a Swig.
Taco Time (St. George BLVD Location):
I love Taco Time! I'm a Taco-Time-over-Taco-Bell guy! The St. George Boulevard location was a GREAT Taco Time! They had their salsa bar, and they had KILLER ranch, too! I miss it so much.
Qdoba:
Is it Q-Doba or Kuh-Doba? I think I always called it Kuh-Doba, but it's missed by so many!
Burger Bar (Home of The Big Ben):
This place was SO GOOD! It's over in Santa Clara, diagonal across the street from Sand Hollow Aquatic Center. But the Burger Bar location in Roy, Utah was on Guy Fieri's show... Diners, Drive-Ins, and Dives. But we never appreciated it enough, and now it's gone forever. I hope ya'll are happy!
Sonic (Bluff Street Location):
I MISS having a Sonic in town! Washington is always so busy and full of traffic. I just wish we had one SO MUCH CLOSER. This Sonic was a staple for me growing up!
Famous Dave's BBQ:
Famous Dave's BBQ, in front of Target and Lowes. It didn't last long, and now it's like... A Verizon store or something!
Bajio Mexican Grill:
Do you remember Bajio? I used to go there for lunch ALL THE TIME when I went to Pine View High School. It's like a Durango's, and it's in the Costa Vida location by Pine View Megaplex Theaters!
More From Cat Country 107.3 and 94.9